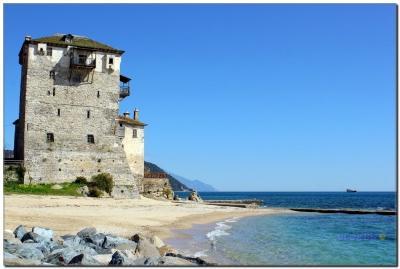 The peninsula of Athos
The most charming from all three of Chalkidiki, adorned with firs, pines, chestnut and olive trees, vineyards and various wildflowers. The blue Aegean sea fondles sandy and pebbly beaches of this blessed place, the entrance to Holy Mountain (Agio Oros).
Ouranoupoli, a truly distinguished town, on the border between holy and human since it connects Agio Oros (Holy Mountain) with the rest of Greece, it rewards every visitor with its beautiful nature, a combination of sea and mountain. A seaside location, on the foothill of Mount Athos, Ouranoupoli is built on the place of an ancient town of the same name. The latter was established in 315 BC by Alexarchos who erected it on the ruins of ancient Sani, destroyed by Filipus the Second. On coins discovered, scriptures stating "Heavenly City" and "City of Heaven" are combined with the figure of Aphrodite. On the southwest part of the town, The Tower is located, dated from the 14th century.
Today Ouranoupolis
Today, Ouranoupolis, under the shadow of imposing Mount Athos, is considered one of the most important resorts of Chalkidiki. The third leg of Halkidiki is the least busy of the three and one of its finest secrets. Prior to the border of the autonomous Agion Oros with its monasteries, a large area unknown to many is suitable for explorations and rest. Picturesque beaches and traditional villages give way to ancient pine forests and ancient ruins.
Stavros village has thousands of tourists each year for its long sandy beaches. Ierissos is situated on the Aegean side of the peninsula and with Nea Roda consists of a large community of farmers,fishermen and forest workers. Traditional products are nationally known for their quality and recently exported.
Facilities
Ouranoupoli is paying host to visitors all year round as it is the entry to Agion Oros and has all the facilities a tourist may need. You can find Greek Orthodox art and cultural exhibits next to picturesque restaurants all situated around the seaside promenade and the port. Organized resorts and all inclusive holiday hotels are one side of the areas value. The other is its non compromised natural beauty. Hiking the large forest areas, mountain biking and visiting secluded beaches or viewing the ruins of the ancient port of Stageira and Xerxes Passage make an unforgettable experience. And so does swimming in the warm sandy beaches and diving in the crystal clear waters with the variety of marine flora and fauna full of surprises.