Meet the team
Androniki&Katerina Iliadou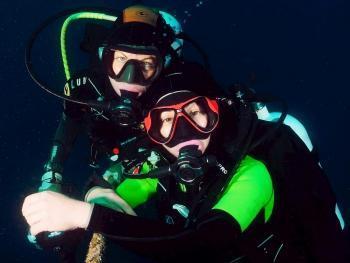 How did we start our business..
It was some afternoon in the year 1984 as I recall, we were sitting close to the beach when my sister Katerina asked me what I wanted to become when l grow up.
Archeologist, I answered, so I can find the lost island of Atlantis…
And then it just came to me:
- Katerina, why don't you become a diver so we can find it together!
- Niki, being a diver is not a job, it's a hobby…she answered.
Funny, because now in 2020, we have both been involved with diving for 23 years, 18 of which we have been practicing diving as professionals. Sharing the same enthusiasm and passion for our work, we have managed to find our lost Atlantis, Athos-Scuba. A diving center open to all people who want to explore the underwater life, enroll in scuba courses or partake in diving excursions.
Providing our services with professionalism and sharing our knowledge and experiences with all of our students and divers, reminds us that learning is an endless procedure and that is never too late to realize what a totally different and fascinating world is waiting for us every day just 5 steps from the beach…
Diving is a dream work! We have the best office, located right on the striking private beach of Eagles Palace Luxury Hotel in Halkidiki, engulfed by palm trees and exotic plants! Each and every day we encounter a dreamlike view, the magnificent view of the endless azure horizon…We lead people from all over the world, people of all ages to a new incredible experience! When they open the magic door to the underwater life, nothing is the same anymore. Everybody wants more! That energy, enthusiasm and genuine emotion of happiness is what makes our divers return year after year and that is our reward!
Athos-Scuba Diving Center in Halkidiki found its permanent location in 2004 at Eagles Palace. It's a small diamond of the Athonian Peninsula with excellent facilities, a fully organized beach with crystal clear waters, few steps from the azure sea, composing a unique environment. Sharing the same philosophy for environmental protection, high quality services and heartwarming hospitality, makes our association unique and incomparable year after year.
 Yiannis Iliopoulos

Our Underwater Photographer and devoted PADI Dive Master. He is a member of our crew since 2014. Sharing our dedication, enthusiasm and passion for diving, makes him a very valid part of our team.
Lydia Iliopoulou
 Our beloved Dive Master Lydia Iliopoulou has been diving with us since 9years old & every summer she spends her school holidays with us! With her possitive energy, passion and enthusiasm she has become an irreplacable part of our team!