Learn to dive
Our Diving School employs certified Trainers and Divemasters with accumulated experience of many years. All our training programs are supported by the largest diving organization, PADI. Furthermore, we utilize a flexible and update training system adjusted to your personal needs.
Discover Scuba Diving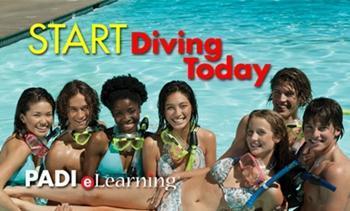 For those who are interested in finding out what it is like to dive, but have limited time or do not wish to commit to a multi-day course, this experience will allow you to safely see the underwater world under the supervision of a PADI qualified Instructor. This program is designed for novices more than 10 years old, who wish to try the unique adventure of SCUBA diving, in just 2 hours. Training includes a brief introduction to the theory of diving and then participants are ready to proceed to practice. Discover SCUBA Diving is an exciting experience that introduces people to scuba diving in a highly supervised and relaxed manner. Students are allowed to try scuba under the guidance of a PADI professional and decide whether or not it is something they would like to pursue further.
Scuba Diver
A two day beginner level course
The PADI Scuba Diver programme is a pre-entry level certification that is perfect for vacationers or people who only plan to dive a couple of times a year. As a sub-programme of the PADI Open Water Diver Course, the PADI Scuba Diver rating allows you to get certified quickly and easily by minimising time constraints(Duration 2days).With the PADI Scuba Diver certification you can dive under the direct supervision of a PADI professional on your next vacation or diving trip anywhere in the world. In addition this programme is a wonderful opportunity to explore the underwater world with the comfort and safety of having an experienced guide with you at all times.
Padi Open Water
PADI's most popular entry level course, this is an extended version of the Scuba Diver course and takes four days to complete.
Now is the time to dive into the PADI Open Water Diver course, the most popular scuba programme in the world! This is your ticket to a lifetime of intense adventure with PADI, the dive association that sets the standards in the global diving community. Being the basic training program to grant someone a scuba diving certificate, PADI OPEN WATER is the most internationally acknowledged with millions of trainees annually. In the PADI Open Water Diver course, a PADI Instructor takes students through the basics of learning how to scuba dive, teaching them how to become safe and confident open water divers. To be certified as an Open Water Diver, one must be at least 10 years old and must complete successfully both theoretic and practical parts. Theory includes 5 sections (a PADI manual, available in most languages is handed) and practice 5 dives in confined waters and 4 open sea dives (maximum depth 18 meters). Duration: 4-5days Age: at least 10years old(Junior Diver Certificate)